Performances
List of activity and performances:
2014-2015.

Many charity events organsied with Eduards students, Eduards and his colleagues performing, London

2014.

Christmas Charity Concert at the Embassy of Latvia, London

2014.

Christmas Charity Concert at the Arts Club 1901, London

2014.

Two charity events at the Daugavas Vanagi (Latvian Welfare Fund) in London

2007-2011.

Participation at various public masterclasses with distinguished professors

2012.

Solo evening recital at the Little Crosby Hall in Liverpool

2011.

Lunchtime Concert at the RNCM Concert Hall in Manchester

2011.

Lunchtime Concert at the St Ann's Church in Manchester

2002 – 2012.

Performances throughout Latvia and the UK in many arts festivals and private events both as a soloist and accompanist (to include appearances with several Youth Orchestras).
Videos:
Click on a box to enjoy Eduards live performance! Full title, description and Youtube video will be available once you click on the box. Click 'View More' in order to access Eduards' Youtube channel!
E. Grieznis arrangement of Latvian folksong 'Tumša nakte, zaļa zāle'
J. Haydn Sonata in D Hob. XVI/37 Mvmt II & III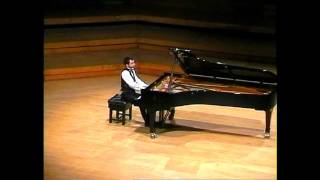 Dm. Shostakovich, Prelude and fugue in d minor, op.87 No.24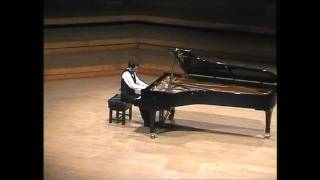 J. Brahms, 3 Intermezzi Op.117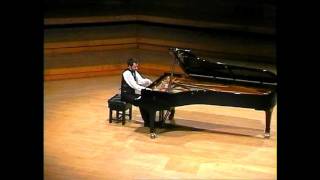 E.Granados: Allegro de Concierto Op.46 in C Sharp Major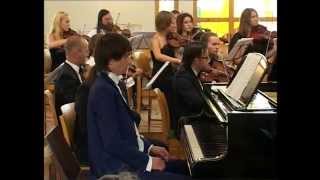 Piano Concerto No.1 by Ilona Brege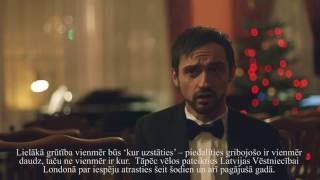 C.O.D.E. - Come Over, Donate & Enjoy!
Fr. Chopin Etude Op.10 No.5 (Black Key)
Cl. Debussy The Girl With Flaxen Hair from Preludes Book I
Eduards Grieznis Improvisation on stage
J. Medins 24 Dainas - Nr. 6 in F sharp major (Dedicated to composers wife)
E. Grieznis arrangement of Latvian folksong 'Tumša nakte, zaļa zāle'

Eduards Grieznis arrangement of Latvian folksong 'Tumša nakte, zaļa zāle' ('Dark night, green grass'). This folksong is a traditional Latvian tune, a particular favourite of my own. The song is very descriptive of Latvian fields, the bright green grass and its history, and of course, its beautiful, dark sky at night time. I often imagine myself in this setting, and let my thoughts travel into this dream-world.. Why don't you join me! 🙂 Performed at Embassy of Latvia in London, England, on the 15th Dec 2014 as part of charity event C.O.D.E. (Come over, donate and enjoy!)

J. Haydn Sonata in D Hob. XVI/37 Mvmt II & III

Recorded at C.O.D.E. charity event in London, 1901 Arts Club in 2016

Dm. Shostakovich, Prelude and fugue in d minor, op.87 No.24

Performed by the winner of The Piano Recital Prize 2011, in the RNCM, Concert Hall, May 2011. Performer - Eduards Grieznis (1988) This is one of the most popular pieces of Shostakovitch. Its depth and majesty has a truly influential and patriotic effect. Hope you enjoy it. Visit my FB Page at www.facebook.com/MusicianEduardsGrieznis and WEBSITE: www.eduardsgrieznis.com Thank you for listening! 🙂

J. Brahms, 3 Intermezzi Op.117

Performed by the winner of The Piano Recital Prize 2011, in the RNCM, Concert Hall, May 2011. Performer - Eduards Grieznis (1988) This is a beautiful set by Brahms. He is well known by his Intermezzi. They represent everything Brahms's music expresses - counterpoint, polyphonic texture, exquisite colors and the most importantly - deepest emotions regards love, pain and joy that one might experience. 1. Andante moderato in E flat major 2. Andante non troppo e Con molta espressione in B flat minor 3. Andante con moto in C sharp minor Hope you enjoy it. Visit my FB Page at www.facebook.com/MusicianEduardsGrieznis and WEBSITE: www.eduardsgrieznis.com Thank you for listening! 🙂

E.Granados: Allegro de Concierto Op.46 in C Sharp Major

Performed by the winner of The Piano Recital Prize 2011, in the RNCM, Concert Hall, May 2011. Performer - Eduards Grieznis (1988) Brilliant, joyful as it is, this piece represents (in my opinion) the essence of Spanish culture. Their passion for love, free spirit, spontaneous nature and immortal joy for life. Hope you enjoy it. Visit my FB Page at www.facebook.com/MusicianEduardsGrieznis and WEBSITE: www.eduardsgrieznis.com Thank you for listening! 🙂

Piano Concerto No.1 by Ilona Brege

Piano Concerto No. 1 by Ilona Brege. Performed at the Latvian Music Festival in Madona, Latvia, on August 5, 2007. Eduards Grieznis (piano), Ainars Rubikis (conductor) and Festival Orchestra.

C.O.D.E. - Come Over, Donate & Enjoy!

A charity event chain established by Eduards Grieznis, inviting all artists / musicians to further raise money for variety of Latvian registered charity organisations. By now, Euro 4, 000 had been raised for Latvian charities Ulubele, Mārtiņa Fonds and Māras Centrs. This video is designed to showcase a brief tour through our event at the Embassy of Latvia at the end of year 2015. And to invite more artists and sponsors to take part in future events! My biggest thanks goes to Speeding films for helping to make this video! www.speedingfilms.com

Fr. Chopin Etude Op.10 No.5 (Black Key)

Performed at the Embassy of Latvia in London, England, on the 10th Dec 2015 as part of charity event C.O.D.E. (Come over, donate and enjoy!)

Cl. Debussy The Girl With Flaxen Hair from Preludes Book I

Performed at the Embassy of Latvia in London, England, on the 10th Dec 2015 as part of charity event C.O.D.E. (Come over, donate and enjoy!)

Eduards Grieznis Improvisation on stage

Hear your favourite tunes all in one 5 min impro - includes Piacolla's famous Libertango, Beethoven's Fur Elise, Twinkle twinkle, Mary had a little lamb, Turkish March, Harry Potter, Star wars, I'm Walking in the Air and Christmas favourites.

J. Medins 24 Dainas - Nr. 6 in F sharp major (Dedicated to composers wife)

Recorded at C.O.D.E. charity event in London, 1901 Arts Club in 2016